Welcome to the Wealthy Affiliate University! Well, my review of it anyways. Today I want to give you an inside look at everything that you see if you were a member of the community. I am going to show you my Wealthy Affiliate University Premium Member Profile. You can take a look at my profile right now if you want here. Let's go a little deeper here thought.
About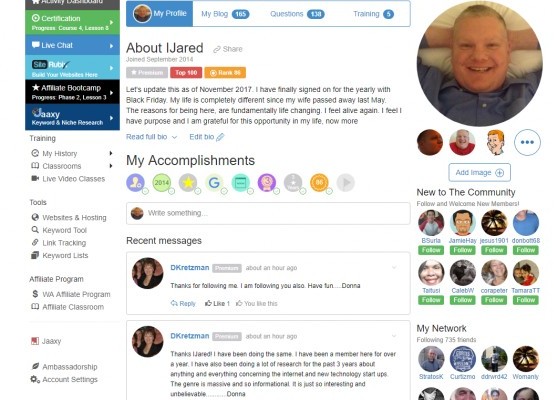 Your profile page in the community is your little about page with the community. It does what it is supposed to! This is where other members of the community can read about you and learn your story. This can as personal as you want or all business.
This page also shows all the other members any of the personal blogs you have written exclusively for the community. There blogs can be again, personal or all business. They are yet another tool for you to grow and express your ideas, questions or concerns with the other members.
Your profile page will also show other members the various accomplishments you have acheived while being a member of the Wealthy Affiliate University. These accomplishments range from everything from how long you have been a premium member to all the steps you have completed within the courses.
Your profile page also have a message board for members to comment on your profile. You can choose who you will network with as well. Your page will list who is following you, and who you can follow as well.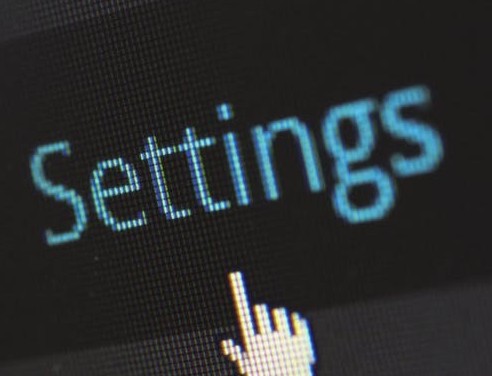 Your profile page really is your dashboard for everything going on inside the community. It shows all of your currents stats including how many posts (within the community, not on your affiliate website) how many questions you might have asked as well as any training you have contributed.
Activity Dashboard
There is a lot going on at Wealthy Affliates and all of it can be found when you click on the activity dashboard. This is where you will see most of the action that is going on within the community and with other members.
Everything in the dashboard is laid out so you can easily see what other members are contributing in the way of blog submissions and training. This gives you a chance to correspond with other members by answering questions or asking a few or your own!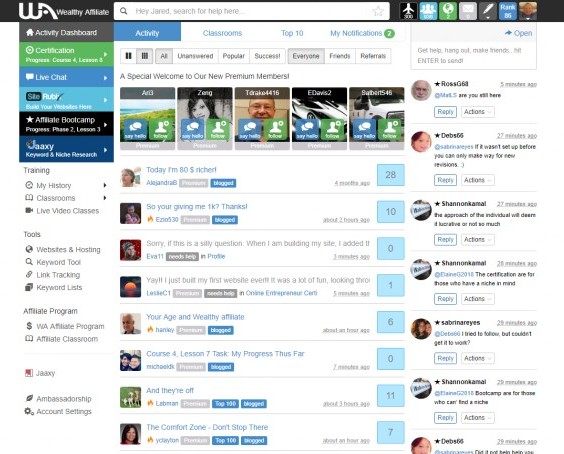 One of the most popular features of the activity dashboard is the listing of new premium members. This board lets give you the opportunity to say hello and welcome new members. You can also choose to follow them in your network to offer help or see what they contribute as members!
There is also a sidebar that displays current members inside the live chat. You can join in if you have a problem you want more advice on.
Courses
Online Certification Courses! Affiliate Marketing School!
Your profile page is also your access point to all of the tools from Wealthy Affiliates University so of course this means the lessons. The certification courses button is right under your activity dashboard and when you click on it you will see the entire course breakdown!
The courses are truly set up so anybody can learn them at their own pace. Each course is broken down into steps and lists each task individually. Each step usually includes a video presentation so you can see an example of the subject matter.
The Certification course will also list where you are in the courses and what you still have to complete. Once you click on the button, you can navigate yourself accordingly.
Live Chat
This pretty much explains itself and it is a great feature that you can take part of anytime that you want. It doesn't matter what you are doing while your are inside of Wealthy Affiliate University, you can click on the Live Chat and it will just open up for you across your screen.
Once inside you can interact with our Premium members in real time to discuss anything you want to! Many members use the Live Chat to discuss ideas and courses. A lot of members will also use the live chat when they have a problem and they are hoping for immediate help. This is usually the place to find advice quickly.
SiteRubix
This is where all the technical stuff with your website is kept. When you click on this button all the different sections of maintaining your online presence are found.
SiteManage

Clicking here will bring up the detailed list of the websites you are hosting at Weathy Affiliates. You can view the status of your sites to make sure everything is running smoothly.
SiteBuilder
This is where you actually use the software that will create your website when you first start out at Wealthy Affilaites.
SiteDomains
At Wealthy Affiliate, starting your digital business all starts with your domain. For those people who want everything to be taken care of in one place, this is for you! From start to finish, everything you need to find, register and manage your domain!
SiteContent
This is the heart and soul of your Affiliate Marketing Business! This is where you can manage all of the content that you will create as an Affiliate Marketing Blogger. This is basically the Ultimate Word Processor, writing platform for you to use.
Affiliate Bootcamp
Still don't know what you want your niche to be? Don't know what you want to specialize in?
The Affiliate Bootcamp is your answer and why I became a premium member at Wealthy Affiliate University in the first place. This University continues to grow because of this bootcamp.
You will learn how to promote Wealthy Affiliates as your niche! This basically means that you believe in the idea of people learning affiliate marketing at Wealthy Affiliates so much you promote it.
There is also a Wealthy Affiliate, Affiliate program, another incentive to bring referrals with you.
Joining the Affiliate Bootcamp is the best way for you to get started learning about Affiliate Marketing until you do find one product or Niche that you really want to specialize in.
Just remember, Wealthy Affiliate University is so successful because members do believe in it.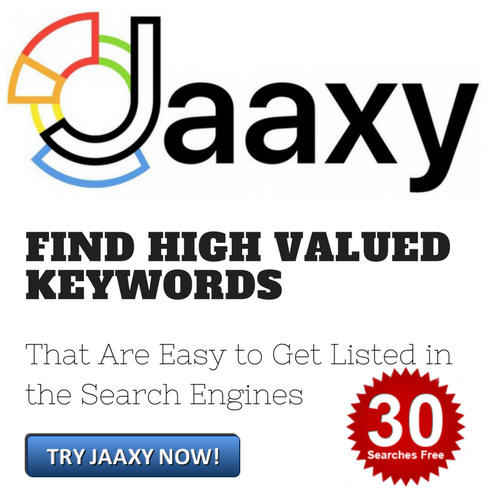 Jaaxy
The last button on the activity dashboard. This is your keyword research tool. This is at the heart of your success as an Affiiliate Marketer.
Clicking on this button will bring up the instant dashboard for the tool where you can enter keywords and get ideas for your content.
This keyword tool is very popular within not only the Wealthy Affiliate University but within the Industry of Affiliate Marketing. You can also buy a premuim membership for this tool outside of Wealthy Affiliates because that is how good it is. Standard with your premium membership.
Start Today!
I mention it when ever I write a post at some point. I am here because I love sales and being online, Affiliate Marketing just makes senses to me.
This review is not so much to tell you yes or no but to give you your own insights to what might work for you. As you can see from the video there are a whole bunch of other features available to you.
The Wealthy Affiliates Premium Member profile page is where everything starts for you. As you can see, you really do have everything you need to start your own business and become an Affiliate Marketer.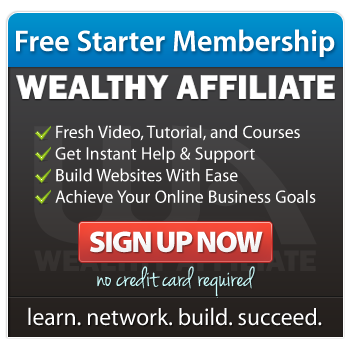 If you liked anything you see here, if it clicks for you and you want to learn more, I highly recommend you sign up for the free 2 weeks and dive into this!
There is no obligation, you can sign up with just your email and once you see everything and click and touch, you will know what your next steps are.